A new collaborative culture for companies with universities
Demola is an international innovation challenge platform that brings together students and leading brands. With Demola, global and local organizations challenge university students to create a better future. Today, our innovation challenges bring together over 50 universities, 750,000 students and the leading companies from around the world.
Demola trademark and innovation platform are owned by Demola Global. Demola Global was established in Tampere, Finland. Now Demola operates in 17 countries: Finland, Sweden, Denmark, Norway, Spain, France, Lithuania, Latvia, Hungary, Portugal, Mexico, Namibia, South Africa, Slovenia, Japan, China and Nepal.

What makes Demola unique?
The demand for such a cooperation process with academia originally derives from Finnish business partners to refresh their innovation activity and to improve the capability of farsightedness, which is essential for innovation. Far-sightedness means understanding the future, understanding change and trends even before they become compelling forces of change. This ability is often weakened by the everyday struggles and problems of companies but can be refreshed by the insights of fresh, creative and well-trained university students. Meanwhile, a new collaborative culture is forming for SMEs and universities as well. Best practices, structured processes and tools have been developed and revised over the years and incorporated into the award-winning, internationally recognized "Demola Concept". 
Our concept – Demola innovation challenges
Demola innovation challenges are designed to solve real future challenges and create new service concepts and demos. With Demola, a multidisciplinary team of university students and company's experts work together in an innovation challenge set by the company. During an eight-week process, the team co-creates solutions to the given theme. The Demola process is globally standardized and professionally facilitated. Challenges in Demola are complex, having a wide spectrum of possible solutions for each challenge, enabling the team members to build curiosity toward the topics. Contracts, intellectual property rights and other legal requirements are in place and meet international business standards and practices.
After the universities in Budapest and Szeged, the University of Pécs has also joined to Demola and invites all companies and organizations in the region to cooperate.
How to start the Demola journey?
Set up your innovation challenge. Everything begins with a compelling challenge that speaks to the best applicants. Our professionals help you in designing your challenge.
Work with a diverse team. Demola forms university student teams and facilitates innovation work by using a structured process. One to three employees from your organization participate in the process as part of the team.
Utilize the talents and the results. When the work is done, your company may use the results to inspire its own product development, hire the most suitable team members – and of course set up a bunch of new challenges.
Contact us
Joining Demola means, having the opportunity to get access to the best talents, to find insights and new direction to your business development, to boost your reputation as an employer, and to provide a unique working method and inspiration to your own employees. You can contact Demola Pécs through e-mail: czibok.balazs@pte.hu
1st Challenge – Multidimensional aspect in creating co-working spaces
What makes a space inspiring for co-creation works and how can it be managed effectively? What kind of premises, design elements, programs, promoting activities, managing efforts etc. could ensure that space fulfils its role to boost the coworking process. 
Background
It is verified, that the ability of interior design elements evokes emotional responses in people. These findings open the door to design spaces that consciously manipulate the atmosphere through decorative elements (lights, colours, shapes and placement of tangible items) to encourage creativity and effective multidisciplinary co-creation work. Although the interior design elements are essential in evolving spaces, the design of a well functioning co-working space needs additional aspects. What kind of programs, activities, functions desire the young generation, the researchers and the companies.
There is growing demand at the University of Pécs for having an open space for multipurpose use. Space which is open for students, researchers and companies to get in touch, communicate, work together. We are interested in solutions that have a comprehensive approach and besides the interior design elements are guided by the main role of such a space. So what kind of dimensions make a space suitable for well functioning, inspiring co-creation work.
The solution to the first challenge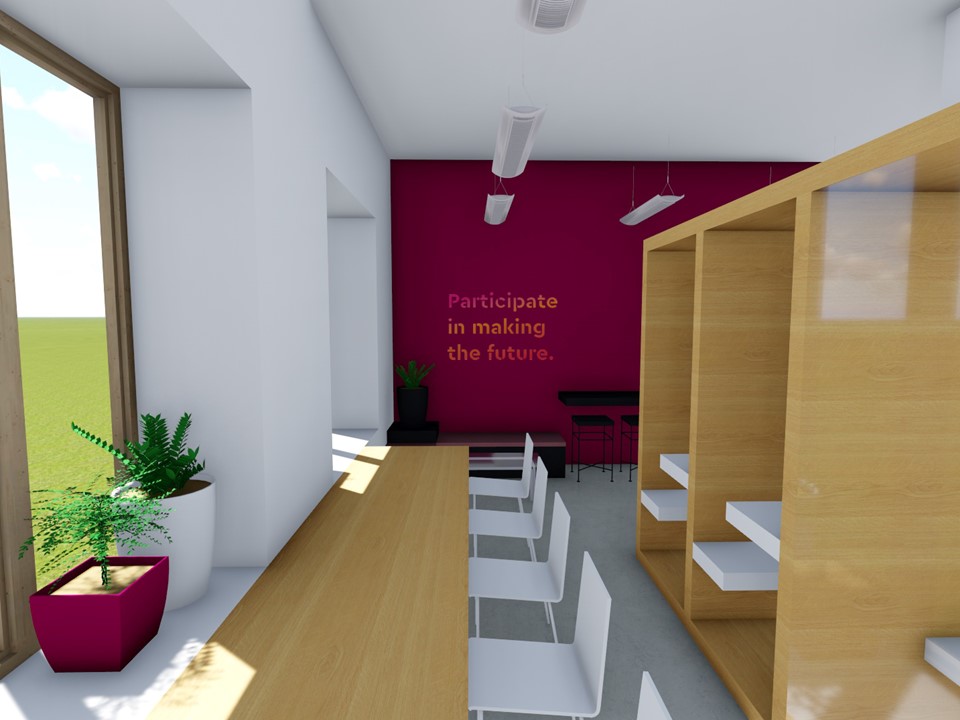 Our team has made research on managing a co-working space and has found 5 aspects, which are the most important fields of the facility management. These are:
• Supporting teamwork
• allowing working individually
• Maintaining bar corner and coffee for ice-breaking
• Having a lounge corner to relax
• Managing the services 
We also have made a floorplan and design for our demola space.